Hours: Mon - Thu: 7:30am - 5:00pm
Fri: 7:30am - 4:00pm / Sat: 8:00am - 1:00pm

1275 Bloomfield Ave, Fairfield, NJ 07004 
Tel: (973)299-6100   Fax: (973)807-1921

** All pricing subject to change depending on market conditions **
** Prices listed do not have to be honored if prices have changed **
When the word 'deck' is mentioned, most people think of a traditional wood deck,
and for good reason. Wood is a beautiful, versatile, and durable product. It lends
warm visual appeal to outdoor spaces and it even feels good under bare feet!
We offer popular wood decking choices in-stock, including Pressure-treated
lumber, Western Red Cedar, Red Balau, Meranti and Ipe (ironwood, a tropical hardwood). Contact us If you have any questions about wood decking options to help you
create a deck that looks great, expands your living space, and adds value to your
home.
IPE DECKING
Common Name(s):
 Ipe, Brazilian Walnut, Lapacho

Distribution:
 Tropical Americas (Central and South America); also farmed commercially
Rot Resistance:
 Rated as very durable; excellent insect resistance, though some species are
susceptible to marine borers. Superb weathering characteristics. (Ipe was used for the boardwalk
along the beach of New York City's Coney Island, and was said to have lasted 25 years before
it needed to be replaced: an amazing lifespan given the amount of traffic and environmental
stresses put upon the wood.)


Items below are Priced Per Linear Foot - 8'-20' Lengths



Pre-Grooved: 1x4 T&G - $2.97 • 1x6 - $4.65 • 5/4x4 - $3.58 • 5/4x6 - $5.54



2x4 Top & Bottom Rail - $6.12

5/4x4 - Top & Bottom Rail - $4.17


RED BALAU/BATU
Common Name(s):
 Balau, Balau Merah, Membatu, Red Selangan Batu

Distribution:
 South East Asia, Asia and Oceania, Philippines
Facts:
Red Balau decking wood is dried in a kiln and is almost free of maintenance. The boards are splinter
free and are smooth to the touch. It is considered a premium hardwood, free of defects and knots.

Balau is one of the hardest woods around. In fact, Red Balau is considered to be four times the

density of Redwood. It is recommended that if the product is being used outdoors that an
oil finish be applied to help prevent weathering and UV damage.


Items below are Priced Per Linear Foot - 8'-20' Lengths


2x4 - $3.90

 2x2x3' - $2.89 (Balusters) 
​
MERANTI
Common Name(s):
 Dark Red Meranti, Lauan, Philippine Mahogany

Distribution:
 South East Asia
Meranti is widely harvested and available worldwide. It should be moderately priced despite the
fact that it is imported. Reported as moderately-durable to non-durable in regard to decay
resistance, but is susceptible to insect attack.


Items below are Priced Per Linear Foot - 8'-16' Lengths


WESTERN RED CEDAR
Common Name(s):
 Western Red Cedar

Distribution:
 Pacific Northwest United States/Canada
Western Red Cedar has been rated as durable to very durable in regard to decay resistance,
though it has a mixed resistance to insect attack. Commercially important lumber, used in a
number of applications ranging from rough-sawn lumber for use in home construction to clear


Items below are Priced Per Linear Foot - 8'-20' Lengths


BE THE FIRST TO KNOW ABOUT ​​OUR LATEST NEWS & SALES
Enter your e-mail address below and sign up to our newsletter
SIGN UP
GARAPA
Common Name(s):
 Garapa, Brazilian Ash, Marotoa, Muirajuba, Muiratua

Distribution:
 South America
one of the finest quality hardwoods available that features a fine-grained timber that is light yellow
to a warm golden hue. Garapa isan exotic hardwood that is naturally resistant to rot, decay and
insect attack. Garapa is naturally scratch resistant which allows the surface to remain smooth
for many years, making Garapa an perfect wood for exterior decking.
Garapa offers a 30+ year lifespan without preservatives!  Our Garapa decking is responsibly
harvested from managed forest to provide a truly renewable resource. Garapa is comparable to
Ipe and is available at a fraction of the cost.




Items below are Priced Per Linear Foot - 8'-20' Lengths


DOUGLAS FIR PORCH DECKING
Common Name(s):
 Inland Douglas-fir, Interior Douglas-fir, Oregon Douglas-fir, Oregon pine, Puget Sound pine, Red fir, Rocky Mountain Douglas-fir, Yellow fir

Distribution:
 Western US, Canada
Douglas Fir has the highest strength to weight ratio of any wood species. Primarily found in the western US and Canada, Douglas Fir is frequently use for dimension lumber in lower grades, and for interior finish work in upper grades. Douglas Fir clears are renowned for their strength, durability, and ability to stand up to the elements. In addition to its strength, Douglas Fir has rich coloring with the heartwood aging to a dark tan-red color and the sap wood remaining light tan. Vertical grain, clear Douglas Fir is widely considered to be one of the finest materials available for trim, mouldings, doors, windows, exposed beams, ceilings and paneling. Douglas Fir CVG flooring has been used throughout the US since the 1800's and is often found in classic historic homes.


Items below are Priced Per Linear Foot



Bottom has 1-1/2" wide slot for wood spindle.  
1" wide slot for Fortress Iron Railings.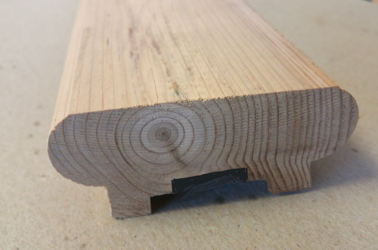 1-1/2" Thick x 3-1/2" Width 
Sold in Random Lengths

IPE - $7.25/lf
Red Balau - $4.85/lf
Knotty Cedar - $3.10/lf
Clear Cedar - $4.50/lf
Treated Yellow Pine - $1.50/lf