Hours: Mon - Thu: 7:30am - 5:00pm
Fri: 7:30am - 4:00pm / Sat: 8:00am - 1:00pm

1275 Bloomfield Ave, Fairfield, NJ 07004 
Tel: (973)299-6100   Fax: (973)807-1921

Parts list for Pavilion kits
This parts list is for Pavilion Kits 12'-14' foot long & 12'-20' wide structures

(A) Iron 8"x8" Post Brackets (qty:4)
(B) 1/2"x3" Lag bolts secure post brackets to post, 8 bolts per bracket (qty:32)
(C) 8"x8"x8' Timber Post (qty:4)
(D) 4"x8"x36" Timber Knee Brace that connects 8"x8" Posts to 8"x12" Girder for support to prevent racking (qty:4)
(G) Iron offset Tee to tie the 8"x8" supporting posts to 8"x12" girders (qty:8)
(H) 1/2"x3" Lag bolts for iron offset Tees, 7 per Tee (qty:56)
(I) Assembled Trusses w/Metal Hardware (qty:2)
(J) 1/2"x5" Lag bolts to secure trusses to 8"x12" Girder (qty:16)
(K) Rafters 4"x8"x? Length determined by width of structure, Cut to size (qty:10)
(L) Girders 8"x12"x? Length determined by length of structure, Cut to size (qty:2)
(M) Wood knee braces 4"x8"x52" for the front, back, & center of structure where the trusses meet the girder and post. Support to prevent racking (qty:4)
(N) Roof Sheathing 2"x6"x16' with V-groove on bottom & Center matched on top. Piece count determined on size of kit purchased. Max size of 1-1/4" Roofing Nails should be used. (Nails not included)
(O) FastenMaster Timberlok Screws 8" Long, 50 count box (qty:2)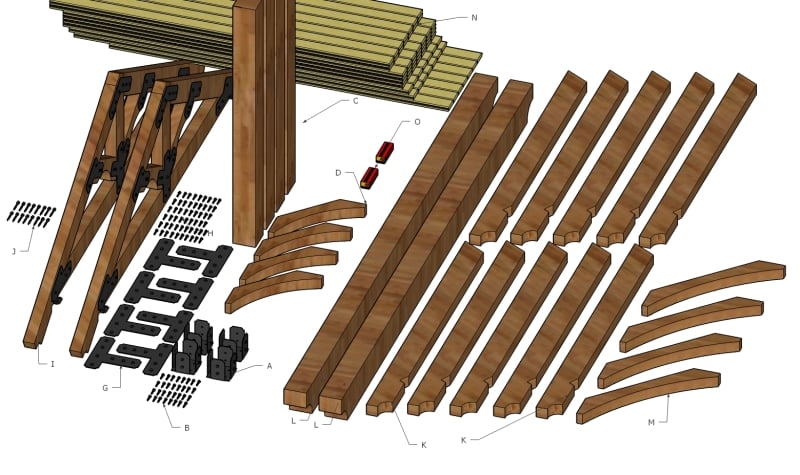 This parts list is for Pavilion Kits 16'-20' foot long & 12'-20' wide structures
(A) Iron 8"x8" Post Brackets (qty:6)
(B) 1/2"x3" Lag bolts secure post brackets to post, 8 bolts per bracket (qty:48)
(C) 8"x8"x8' Timber Post (qty:6)
(D) 4"x8"x36" Timber Knee Brace that connects 8"x8" Posts to 8"x12" Girder for support to prevent racking (qty:8)
(E) Iron Tees to tie 8"x8" supporting posts to 8"x12" girders (qty:4)
(F) 1/2"x3" Lag bolts for iron Tees, 8 per Tee (qty:32)
(G) Iron offset Tee to tie the 8"x8" supporting posts to 8"x12" girders (qty:8)
(H) 1/2"x3" Lag bolts for iron offset Tees, 7 per Tee (qty:56)
(I) Assembled Trusses w/Metal Hardware (qty:3)
(J) 1/2"x5" Lag bolts to secure trusses to 8"x12" Girder (qty:24)
(K) Rafters 4"x8"x? Length determined by width of structure, Cut to size (qty:10)
(L) Girders 8"x12"x? Length determined by length of structure, Cut to size (qty:2)
(M) Wood knee braces 4"x8"x52" for the front, back, & center of structure where the trusses meet the girder and post. Support to prevent racking (qty:6)
(N) Roof Sheathing 2"x6"x16' with V-groove on bottom & Center matched on top. Piece count determined on size of kit purchased. Max size of 1-1/4" Roofing Nails should be used. (Nails not included)
(O) FastenMaster Timberlok Screws 8" Long, 50 count box 
(qty:2)
​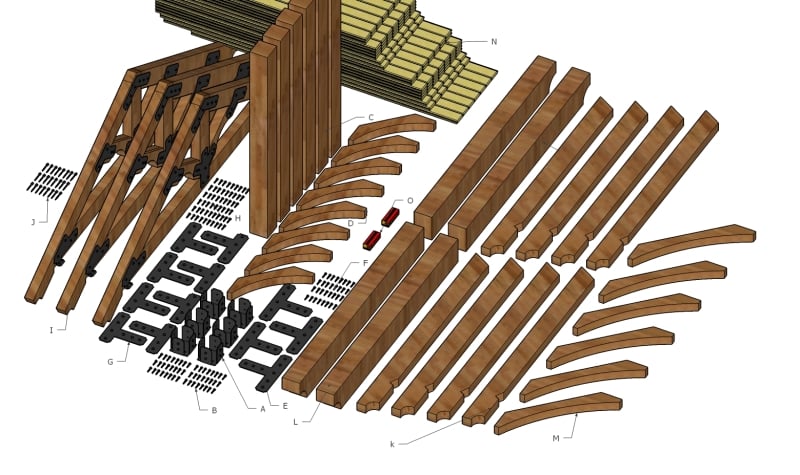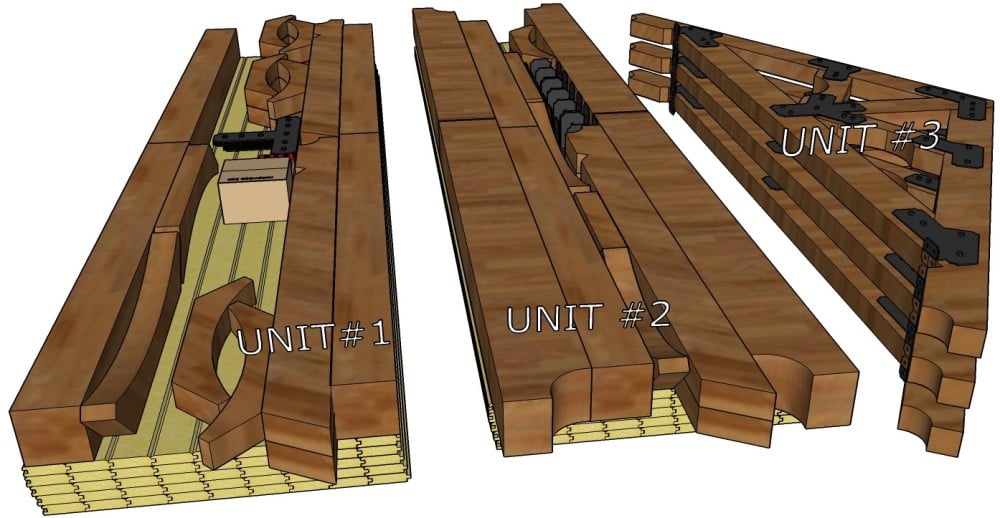 What to expect upon delivery of your Pavilion Kit to your job site:

Pavilion Kit will be delivered on a flat bed truck in 3 separate units (4 units for larger custom kits).
Unit (1) will contain 2"x6" Roof Decking/Sheathing, Posts, Timber Knee Braces, Metal Plates & Hardware Boxes.
Unit (2) will contain more 2"x6" Roof Decking/Sheathing, Girders, Rafters, Timber Knee Braces & Post Brackets.
Unit (3) will be the assembled roof trusses only.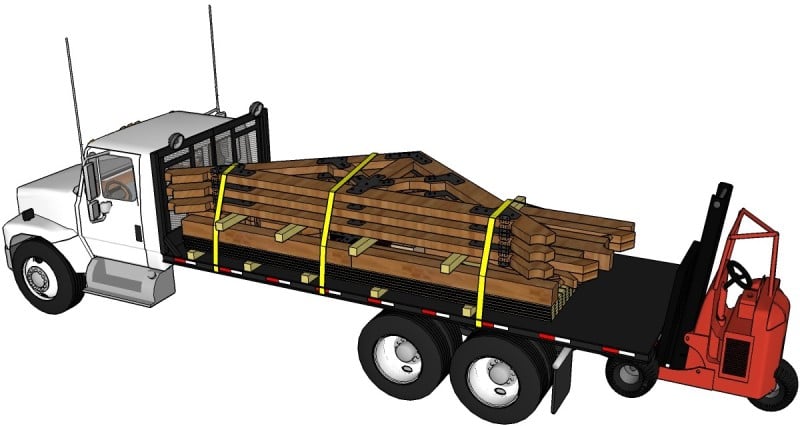 What to expect upon delivery of your Pavilion Kit to your job site:

Delivered Pavilion Kit to job site will be on a flatbed truck with piggyback forklift mounted to the back of the truck. Keep in mind, job site must have ample room around truck and free of construction debris for piggyback to offload​, maneuver and drop off units in a open area. Driver will not be accompanied with additional person/help. Units will be dropped off as close as possible to site location. No additional hand carrying will be done by driver. If these services are needed customer will have to supply additional Man Power.
** PLEASE READ BEFORE INSTALLATION **


Before starting construction the contractor must review and be responsible for all dimensions and other job site details. Plans must be reviewed to insure they meet current building code requirements. Codes vary with location and change from time to time. Boards & Beams assumes no responsibility if current conditions require safer alterations to structure. Boards & Beams will not assume any responsibility in securing local building permits, variances, any governing bodies approval or local building authority notations supersede and override materials fastening, nailing schedules and construction procedures presented below.
Step by Step Installation Guide

- Pavilion Kits -
Footing/Post Bracket Install - STEP 1

Footing diagram below are general guidelines for contractors. They are not a sealed architectural drawing so installation contractor or homeowner must verify detail with local building codes and inspectors. If additional sealed drawings are needed they can be provided at an additional charge to owner or contractor. In most cases drawing below should be all what is needed as long as owner approves.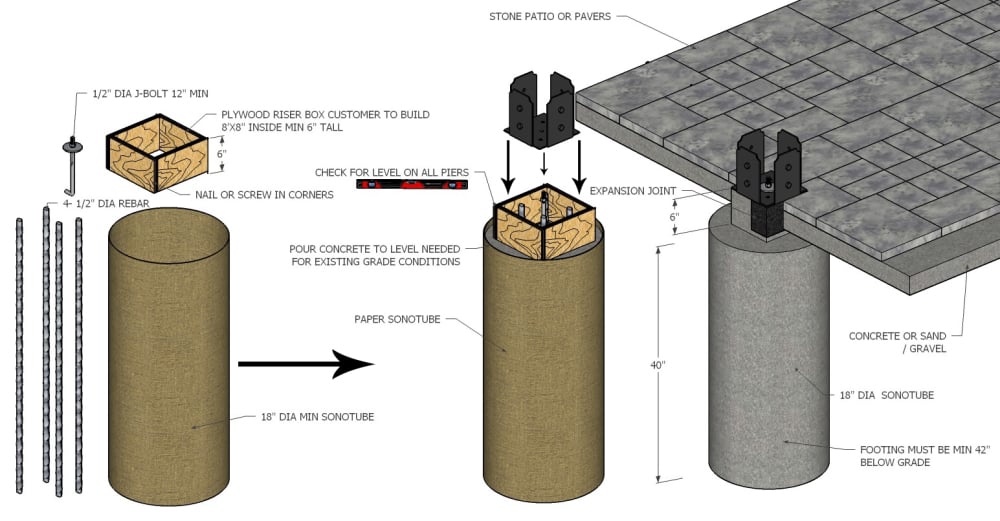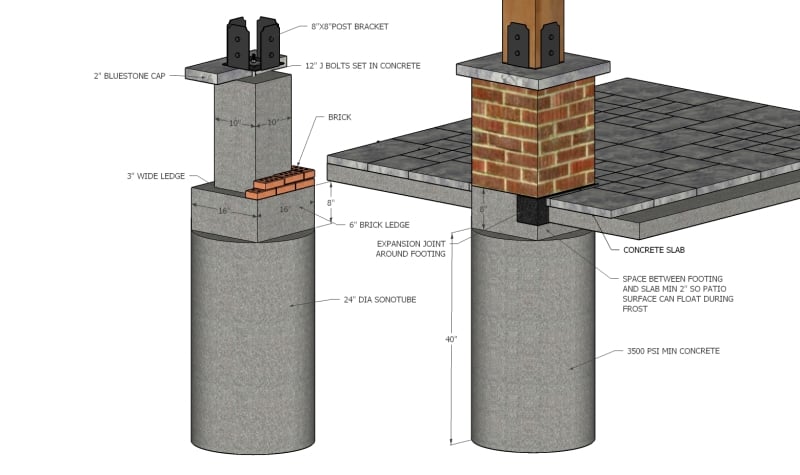 Footing Diagram


The 2 footing diagrams above show the different methods used if a post is desired to be flush with patio surface. If a more decorative brick or stone pier with a cap stone is desired both methods require excavating holes in the proper locations according to the size Kit that is purchased and both will require checking for level and square.

This part of the project might require exact planning. Make sure that the dimensions of the kit will be accurate to within a 1/2" or less so that footing location can be as close to the dimension as possible. Although there is some level of error that is acceptable depending what direction it is in.

The choice of patio material is not limited to diagram above. Any material of your choice can be used from Concrete, Flagstone, Pavers, Bluestone set in sand, Wood decking, Grass & Dirt, Etc. But if there is a concrete slab and or Flagstone set in concrete there must be an expansion joint separation between footings and concrete slab and there must be space between bottom of slab and foot ledge. See both diagrams for details.
Post Bracket Installation
After the installation of concrete footings the next step will be the installation of metal post brackets provided with kit. Make sure that the final placement of brackets are checked for location and square. 

Depending on the size Pavilion Kit that you purchase you can refer to diagram on the left to determine the exact dimensions of post bracket placement. Final height of bracket is critical so that the bottom of the post bracket will be leveled with the patio surface.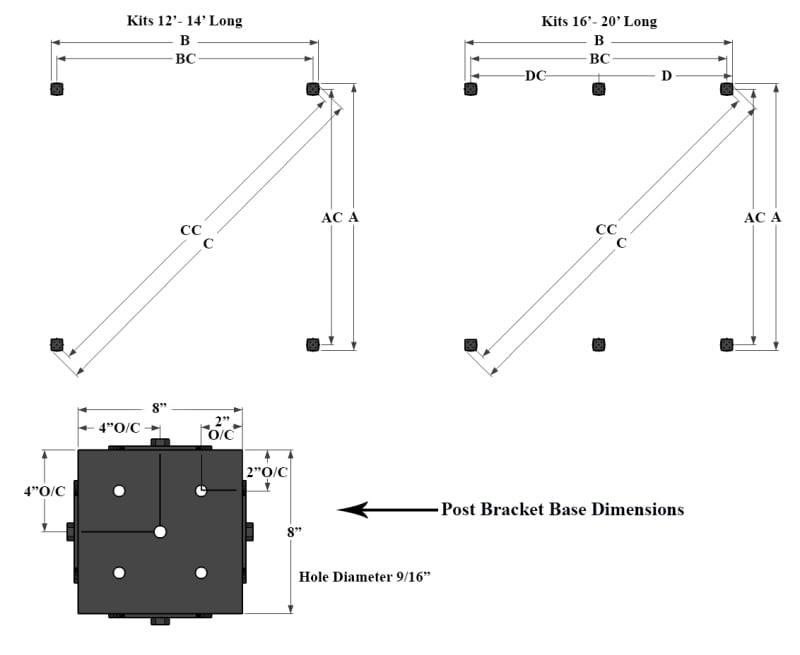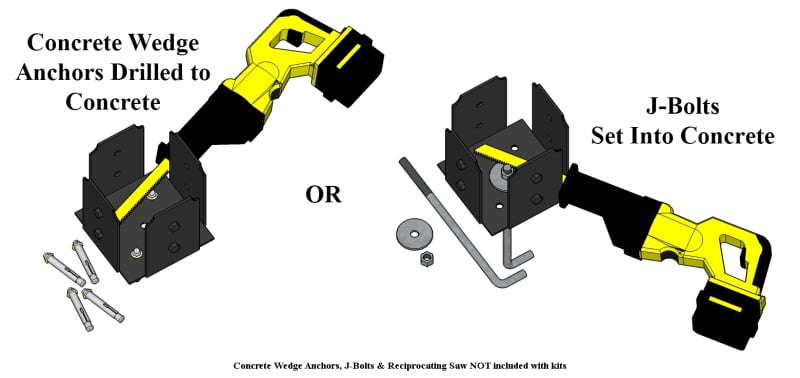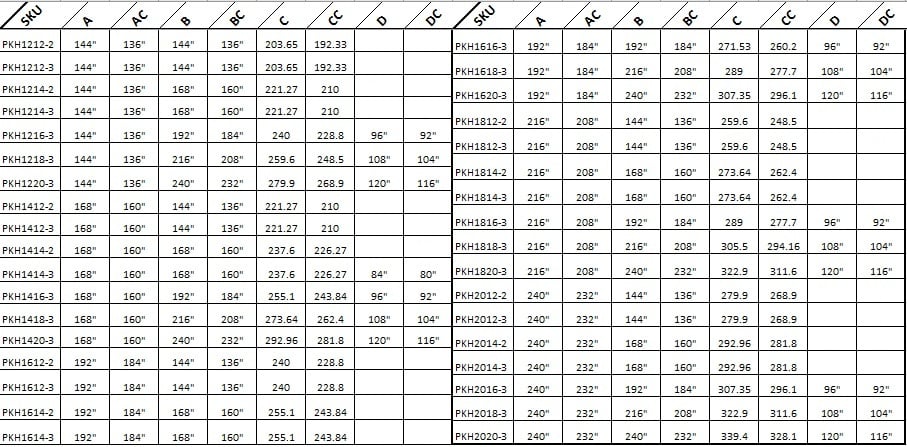 BE THE FIRST TO KNOW ABOUT ​​OUR LATEST NEWS & SALES
Enter your e-mail address below and sign up to our newsletter
SIGN UP
Vertical Post into Post Bracket Install - STEP 2


Drill holes on the bottom of post in locations as needed to match anchor bolts used in footing. Apply wood sealer on flat & Countersunk hole area at bottom of post/column. Make sure the top of all posts are level even if the footings or patio area has a pitch. This is critical so the roof of the structure is level to the eye. This can easily be done with a transit or a string with a level attached to it. The top of posts can be cut with a chain saw but if a nicer cut is desired a square circular saw or reciprocating saw will need to be used.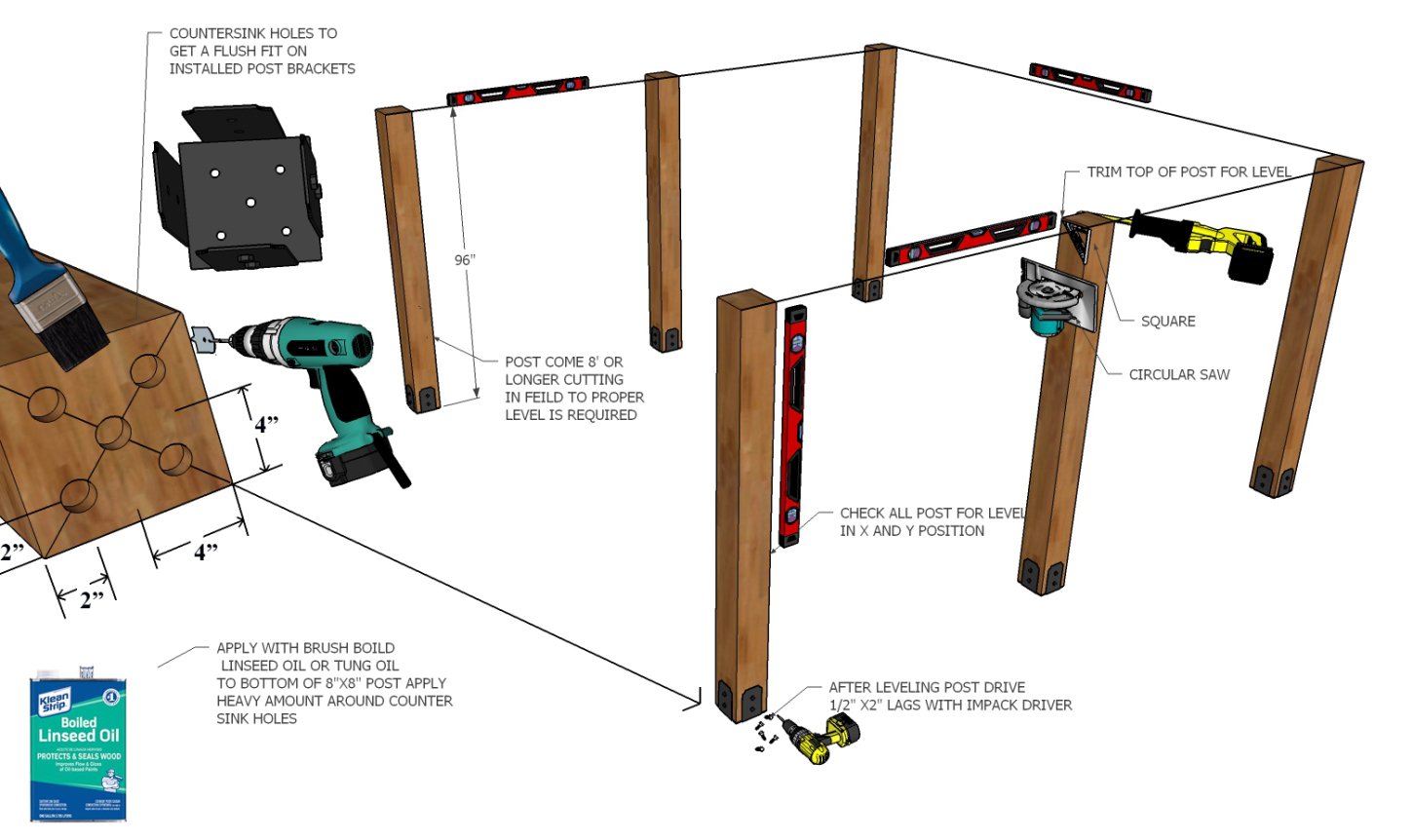 Girder to Post/Column Install - STEP 3

Install 8"x12" Girder on top 8"x8" post. Make sure spacing at the bottom of vertical post are the same as the top where the girder hits the post. Also make sure posts are parallel and plum with each other. Install temporary supports like 5/4"x3" Spruce to keep the posts plum during the installation of 8"x12" girders. Install the 36" long wood angle brackets on the inside corner where vertical 8"x8" posts meet the horizontal 8"x12" girder. At this point it is very important to keep checking for plum with level to make sure the angle brackets are not installed when the structure is slightly racked or off plum after the 8"x12" girder has been installed and that the proper overhang on girder over post are confirmed. 

You can now proceed to install all of the metal off set tee and tee mending plates. Off set tees have 7-1/2"x3" Lags and the Tee's have 8-1/2"x3" Lags. Keep in mind that depending if your girder comes as 1 piece or 2 pieces, the metal tee bolt hole patterns may or may not hit a seam if the center screw hit the seam where both girders join just install the 1/2"x3" bolts on the seam. Drill 7/16" holes on seam and install bolts to continue the visual appearance.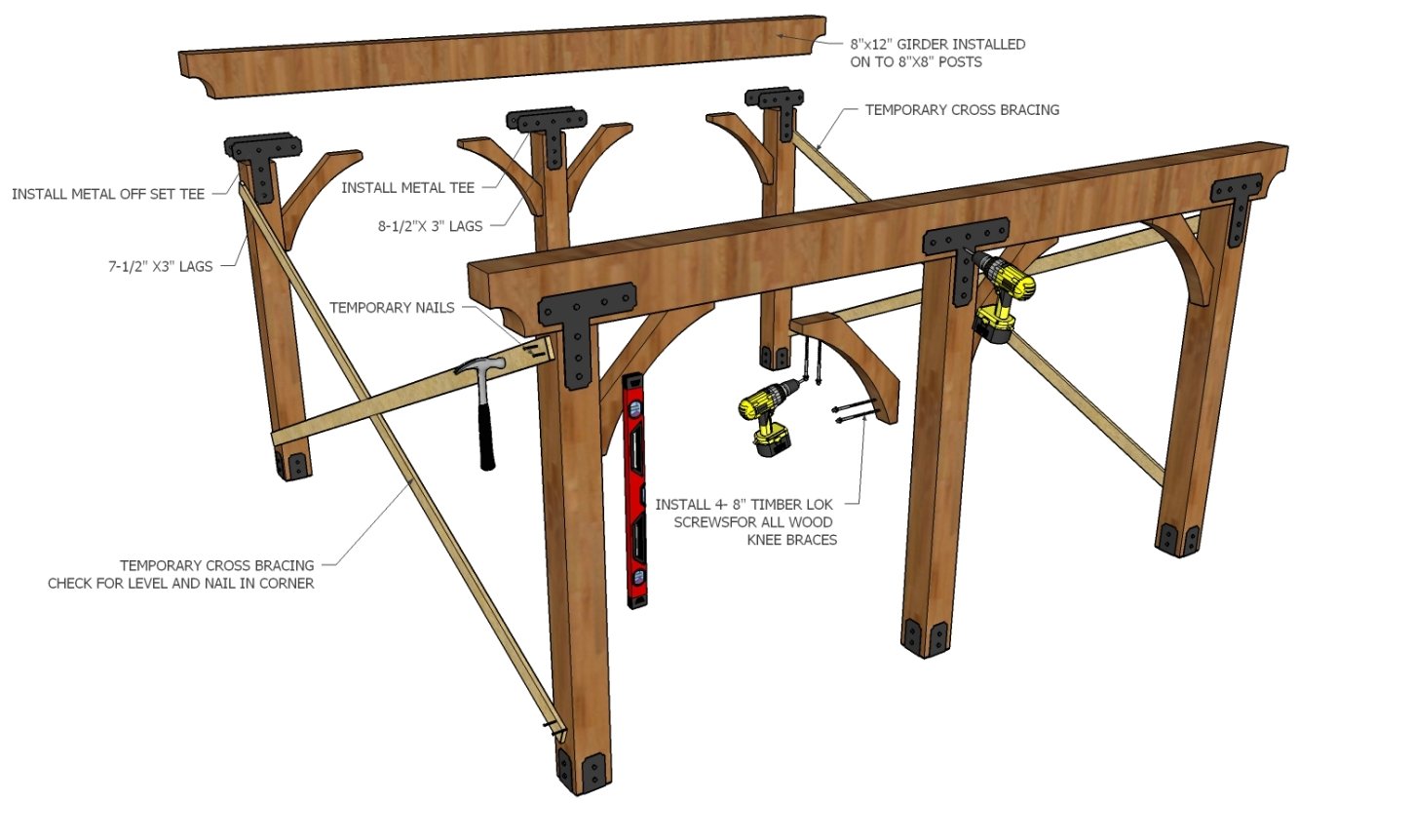 Truss to Girder Install - STEP 4

Install Trusses on top of all post locations. Make sure trusses which are 4" wide are centered over post which are 8" wide so the 52" long wood angle brackets are centered over post. Use 8-1/2"x3" lag screws per truss to secure trusses onto the top of girder. A Dewalt 1/2" drive electric impact driver will work well for this or a simple hand ratchet will work. After the installation of trusses it is time to install the 52" long wood angle brackets up under the truss to post. Use 4 - 8" long TimberLok screws, make sure you check for plum on structure before the final screw is installed. After all the wood angle brackets are installed, the temporary supports can be removed or they can remain until the end of the install.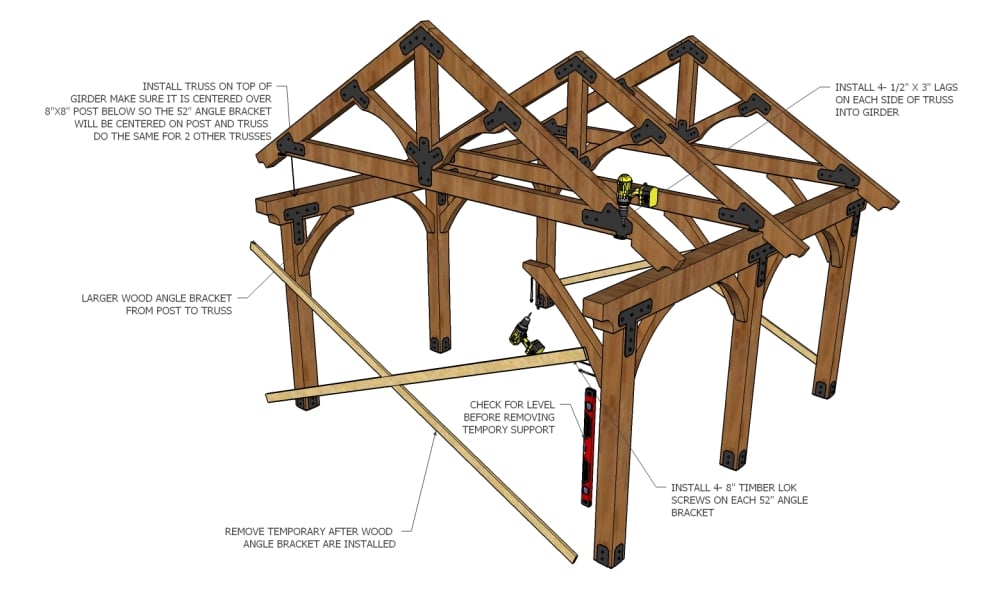 Rafter Install - STEP 5
Install 4"x8" Rafters between trusses. Depending on the length of kit purchased, the number of rafters between trusses and spacing between trusses & rafters will vary. Check the spacing and make sure that it matches the plane or with a tape measure space them equally apart. Install TimberLok screws at the ridge point and birds mouth area. Additional framing nails or screws can be added at these points.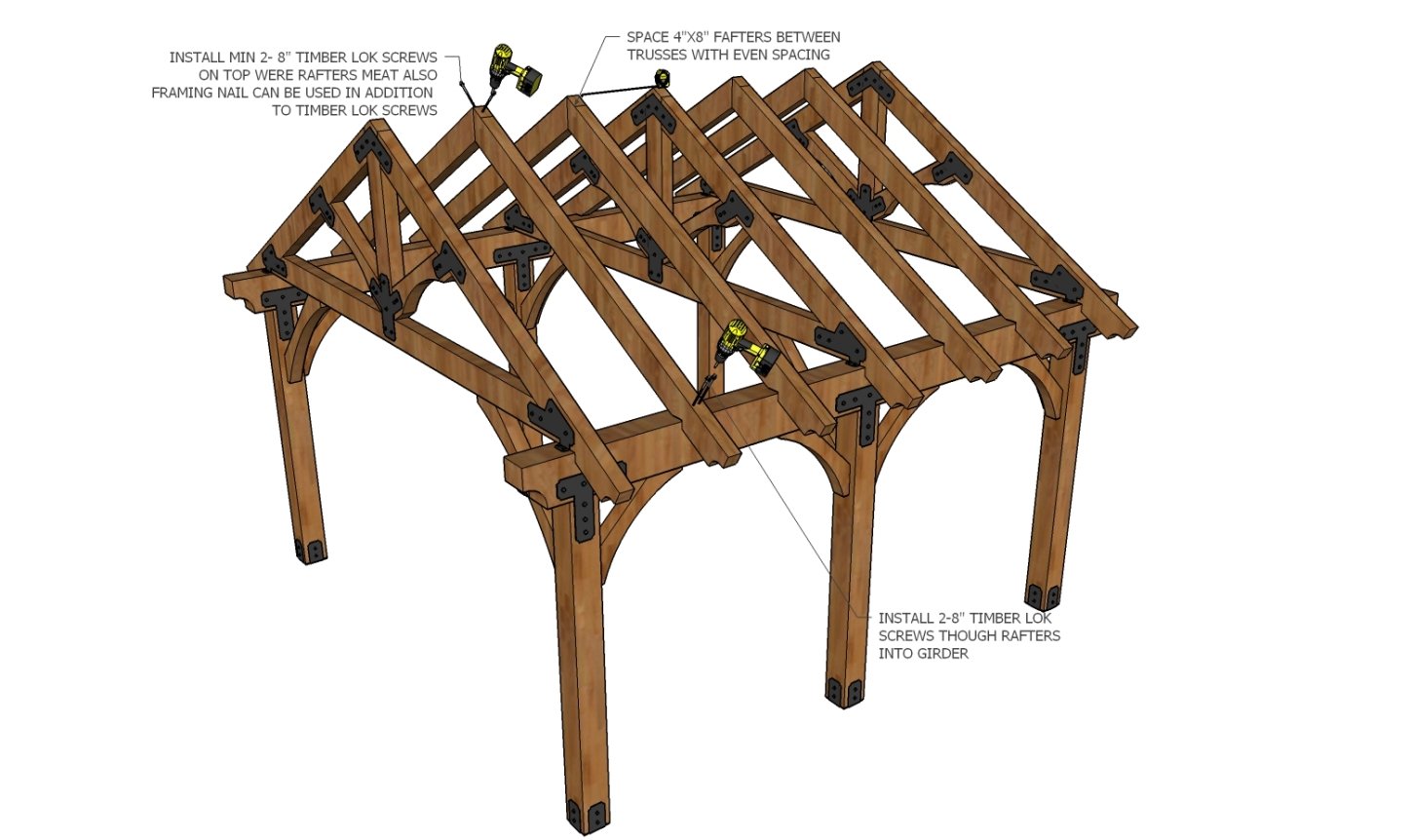 Sheathing Install - STEP 6


Quantity of 2"x6" Roof sheathing that is supplied with the kit will be enough to complete your roof decking. If you follow the installation method below. The kit is priced out based upon a quantity sold. If the customer wants there to be NO joints in roof decking visible from below, looking up that will force the sheathing to land on all rafters & Trusses for a seamless roof deck. In order to achieve a seamless roof deck from bottom, the purchase of additional sheathing will be required depending on how much you cut back. This method may require an additional 20% extra of material.


*** Keep in Mind 2"x6" T&G Roof Decking/Sheathing does not have to land on Rafters or Trusses. Please follow diagrams below ***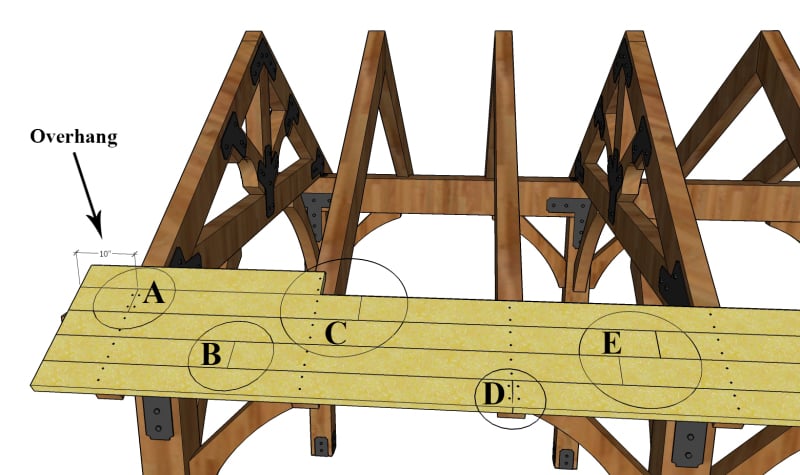 Sheathing Install - Diagram above - Things to keep in mind
(A) It is acceptable to put short pieces on end. Piece must be minimum of 2" longer than overhang. Example: 8" overhang piece must be 10" long, Put 2" nail minimum into truss.
(B) It is acceptable to have a joint falling between Rafters & Truss as long as the pieces below and above do not have joints in the same area. Pieces below & above run the full span from truss to rafters.
(C) It is acceptable when the bottom board has a joint in the center of a span between truss & rafter and the upper board has a joint on either the truss or rafter even if the joints are close to each other as long as upper joint is supported with framing.
(D) It is acceptable that the bottom starter row has a joint but must land on the truss or rafter. It will not be acceptable if the joint lands between framing members because there is not a board below running through to support the joint.
(E) It is NOT acceptable when 2 joints land in the same bay between rafter or trusses. Having a joint back to back may lower the performance of the 2"x6" structure roof decking. Make sure you plan out the layout of sheathing to prevent this situation from occurring.
Additional Notes


• Make sure the 2"x6" roof decking is installed with the V-Groove side facing down or facing the interior of the structure. The center matched side should be facing up towards the roofing material. The first step will be to rip with a circular saw the grooved side of the 2"x6" roof deck board so that it will be visually more appealing  when completed but in some situations it won't matter.

• Make sure you leave a 1-1/2" overhang beyond rafter & truss ends, the ends will be protected. Install roof decking with Minimum 10D Framing nail or 3" long screw can also be used but make sure all nails or screws are flush with the top surface of decking. Put a minimum of 2 nails per each rafter and truss starting from the bottom and working your way up. This will make the installation a lot easier.

• A cautionary note although your kit will have a 7/12 roof pitch which in most cases it's easy to walk on but in some circumstances and slippery conditions, nailing 2"x4" studs every 24" across the roof as your working your way up will be advisable to prevent slipping off the roof. After reaching the ridge line at the top of the final 2"x6", roof deck may have to be ripped down to meet at the peak. Make sure there aren't any gaps visible on the inside looking up at ridge so there is no black roofing material exposed.

• Keep all seams on the V-Groove side tight. Now it will be time to install (Not included in kit) Tar paper, Ice & Watershield & Selected roofing material. To install roofing make sure you do not use nails longer than 1-1/4". Roof decking thickness is 1-1/2". Length of nail will depend on what type of roofing material is being used.

• Drip edge should be used but check with your roofing contractor and discuss details.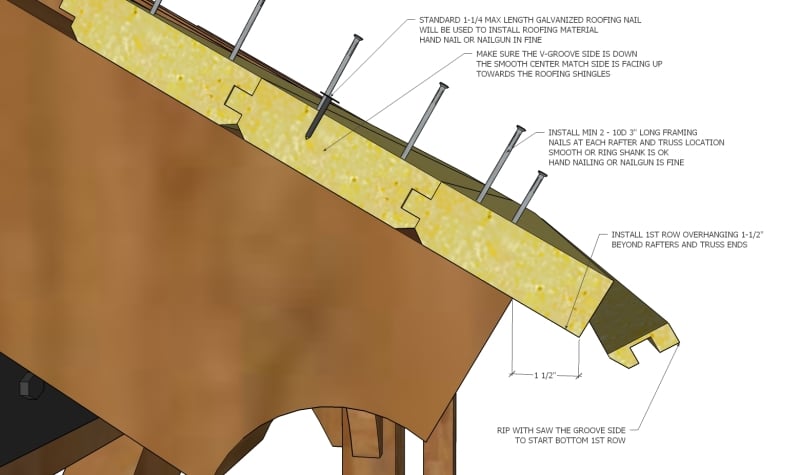 Disclaimer

This installation guide is for the basic ideas and general knowledge on how this kit comes together. It is by no means a architectural or certified plan. Depending on site conditions and what local building codes require, modifications to the drawings may be needed by licensed Architects or Engineers which will solely be the responsibility of the purchasing party and not the responsibility of Boards & Beams.
Although these kits are fabricated in a shop and delivered to the site, Boards & Beams will not be held responsible for any damage to material, land and/or injuries caused during the on site installation. The contractor or home owner must provide their own insurance.