Hours: Mon - Thu: 7:30am - 5:00pm
Fri: 7:30am - 4:00pm / Sat: 8:00am - 1:00pm

1275 Bloomfield Ave, Fairfield, NJ 07004 
Tel: (973)299-6100   Fax: (973)807-1921



Our shelves are made from solid Saw Kerf marked Pine and come with a high quality welded steel hidden mounting bracket. 
The bracket consists of a ¼" x 1" steel back plate with ½" steel rods welded to it on 12" centers
. The shelves are only made with high quality solid wood, unlike many of our competitors, who use wood veneer and other inexpensive composite materials. The installation is fast and simple – mount our hidden bracket to your wall (making sure to fasten into your wall studs) and slide on the shelf (which has been bored to accept the ½" steel rods) which give the shelf its "floating" appearance but will be very sturdy on your wall. 
Installation should only take 15 to 20 minutes per shelf
. Best of all, the shelves are extremely affordable!

These shelves can be paired together to create a continuous shelf, or can be attached to the wall as a standalone shelf. They are available in a 
variety of sizes from 24", 36", 48", 60", 72", 84" & 96" in lengths and widths from 7-3/4", 9-3/4" & 11-3/4". Choose from 4 different color options: Weathered Grey, Light Brown, Dark Brown or the Natural no stain, no finish to  Do It Yourself
. All other colors (besides natural) come with a matte finish.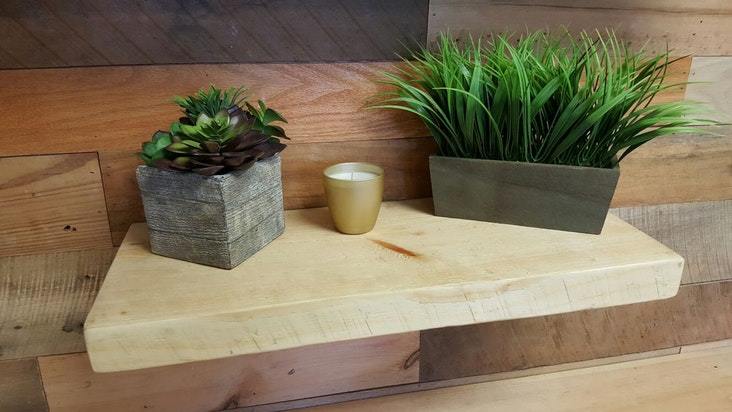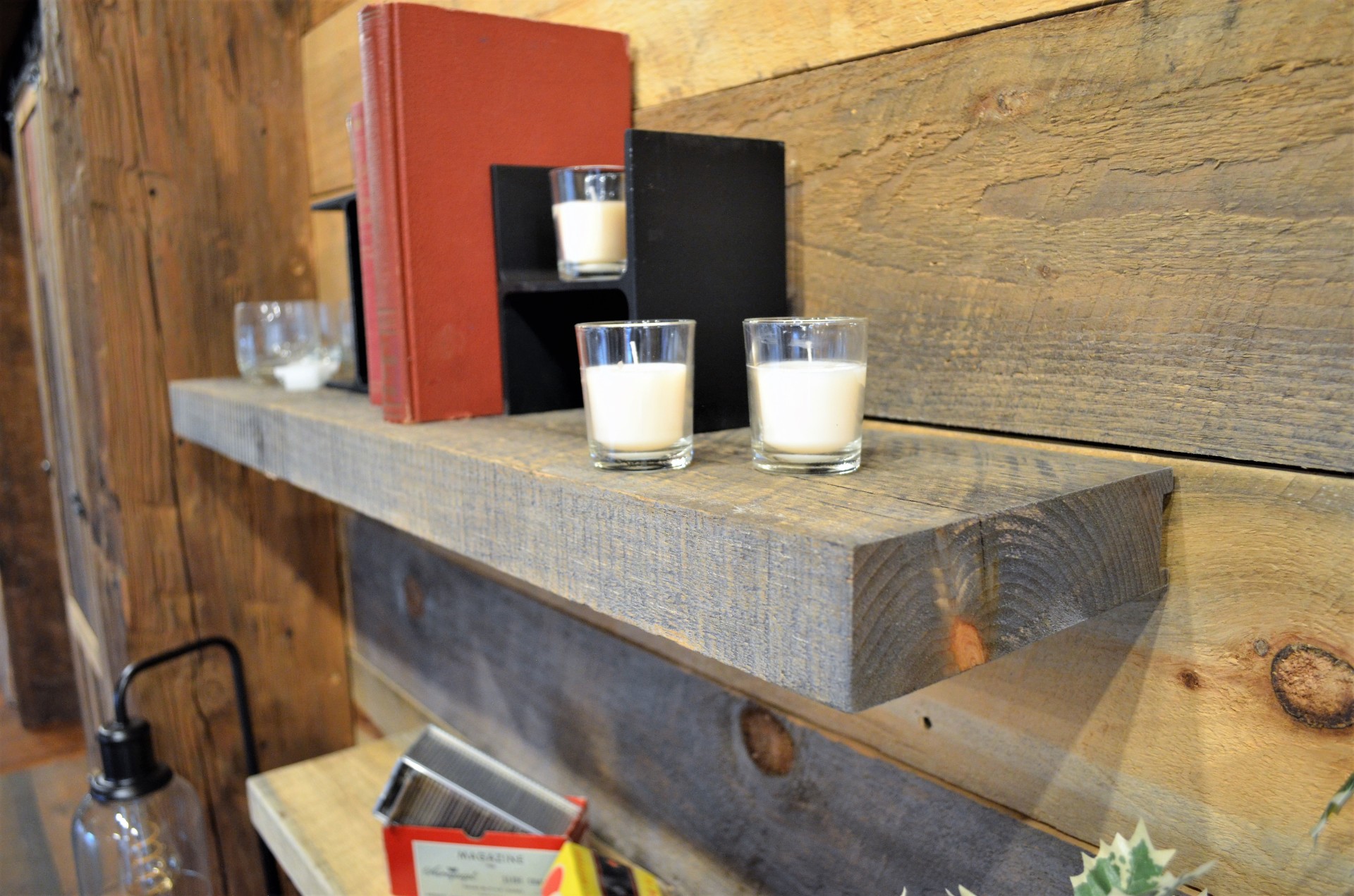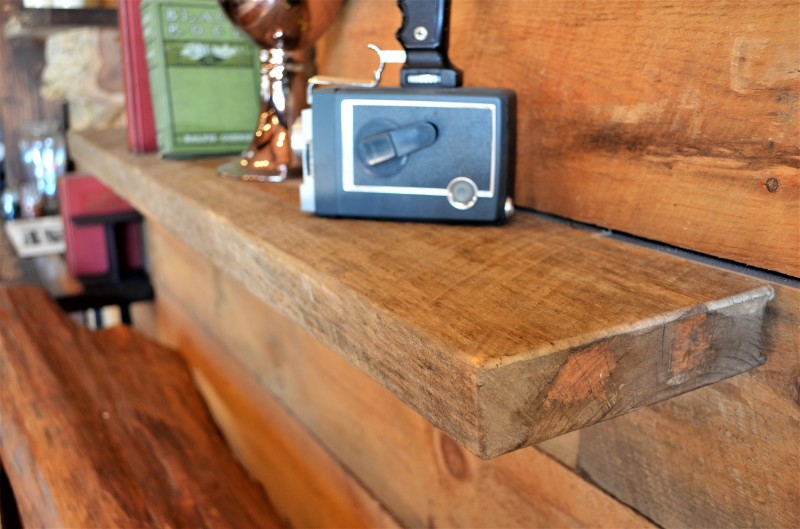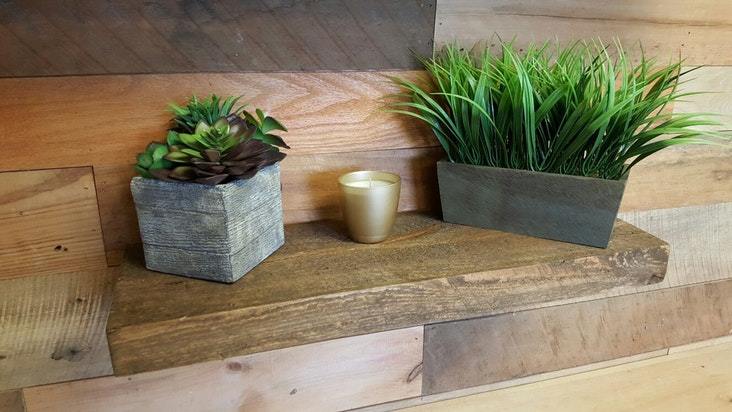 ** Only 4 Standard colors available. Any custom lengths, widths & custom colors will result in additional charges. Prices could double or triple **
​​
Pricing chart below is for
Unfinished Natural Finish Shelves
 in various sizes. All pricing includes Mounting Hardware.
Pricing chart below is for
Finished Stained Shelves w/matte finish
. Standard colors are Silver/Gray, Light Brown & Medium Brown. Hardware Included.
Shelves are 1-7/8"-2" Thick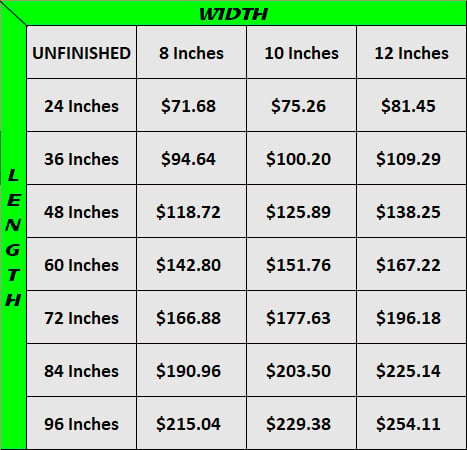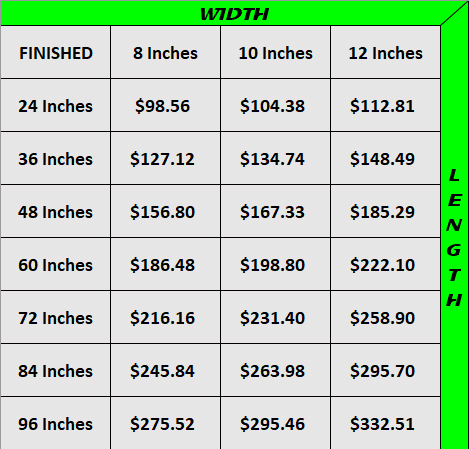 Custom Colors, Finishes & Sizes will result in additional charges.
 Boards & Beams will not guarantee exact match on custom colors.

** All of our shelves are produced on a Mass Production basis. Machines are setup for standard sizes and colors offered. If you wish to have a custom shelf made to your dimensions in a custom color the minimum rates will be 2X(double) our finished shelf prices. Please note that charges can exceed double the amount based on desired shelf specs.**
BE THE FIRST TO KNOW ABOUT ​​OUR LATEST NEWS & SALES
Enter your e-mail address below and sign up to our newsletter
SIGN UP